Will this summer be incredible for
Hulk
? Will
Sex & the City
's TV success Carrie over to the box office? Will audiences feel the need for
Speed
? Who can say? But one thing's for sure: This looks like one of the best summer offerings in quite some time. Photos courtesy
Rotten Tomatoes
and the respective studios, except where noted.
MAY 2
Iron Man
(Paramount)
STARRING: Robert Downey Jr, Gwyneth Paltrow, Terrence Howard, Jeff Bridges
DIRECTED BY: Jon Favreau
THE SKINNY: After years in development hell, the invincible superhero gets the big-screen treatment he deserves with a cast full of Oscar nominees.
Made of Honor
(Columbia)
STARRING: Patrick Dempsey, Michelle Monahan, Kadeem Hardison
DIRECTED BY: Paul Weiland
THE SKINNY:
My Best Friend's Wedding
in reverse. Last year when a romantic comedy opened against a highly-anticipated comic book movie, it was one of the biggest gaps in box office history.
MAY 9
Speed Racer
(Warner Bros.)
STARRING: Emile Hirsch, Christina Ricci, Matthew Fox, John Goodman, Susan Sarandon
DIRECTED BY: The Wachowski Brothers
THE SKINNY: After the
Matrix
trilogy and the brilliant
V for Vendetta
, the mysterious siblings take on the famous animé series in what could either be the coolest or dumbest movie of the summer.
What Happens in Vegas
(20th Century Fox)
STARRING: Cameron Diaz, Ashton Kutcher
DIRECTED BY: Tom Vaughn
THE SKINNY: The King and Queen of Used to Do Interesting Work are now in yet another romantic comedy. Basically, they got married on a drunken weekend in Vegas and have to stay together. Hardy har har.
MAY 18
The Chronicles of Narnia: Prince Caspian
(Disney)
STARRING: Ben Barnes, Anna Popplewell, William Moseley, Georgie Henley, Skandar Kaynes
DIRECTED BY: Andrew Adamson
THE SKINNY: As someone who was in the minority on the first one (I hated it), I don't have high expectations for the latest weak adaptation of the series by one of the greatest writers of all time.
MAY 23
Indiana Jones and the Kingdom of the Crystal Skull
(Paramount)
STARRING: Harrison Ford, Shia LaBeouf, Cate Blanchett
DIRECTED BY: Steven Spielberg
THE SKINNY: No one really knows much about the plot, but who cares. This will be another entertaining outing. But one has to wonder: in the Last Crusade, a villain commented how Indy was "too old for this." And that was 19 years ago.
MAY 30
Sex and the City: The Movie
(New Line)
STARRING: Sarah Jessica Parker, Kim Cattrall, Cynthia Nixon, Kristin Davis, Chris Noth
DIRECTED BY: Michael Patrick King
THE SKINNY: It's been four years since the relationship-obsessed foursome left HBO but how are the film will balance the boundary-less HBO humor with the heavily edited syndicated versions? Who knows, but you can bet all kinds of ladies will be flocking to the theater, especially if there's an Oprah push.
The Strangers
(Rogue)
STARRING: Scott Speedman, Liv Tyler
DIRECTED BY: Bryan Bertino
THE SKINNY: The
trailer
provides real chills, but whether or not the movie delivers is another question. One thing's for sure: like '06's
Vacancy
, there's no way I'm going to attempt to find out.
The Foot Fist Way
(Paramount Vantage)
STARRING: Danny McBride
DIRECTED BY: Jody Hill
THE SKINNY: Will Ferrell called it hilarious (according to the trailer), but it's really doubtful that anyone needs another sports comedy featuring an egotistical man-child as the lead. I'm calling it this year's
Hot Rod
.
JUNE 6
You Don't Mess with the Zohan
(Columbia)
STARRING: Adam Sandler
DIRECTED BY: Dennis Dugan
THE SKINNY: Most people know I'm no Sandler fan (at least when he's doing comedy), but with a script from Comedy Savior Judd Apatow and SNL genius Robert Smigel, this might, in fact, be hilarious. It stars Sandler as an Israeli assassin who fakes his own death to follow his dream of being a hair stylist.
Kung Fu Panda
(DreamWorks)
STARRING the voices of: Jack Black, Jackie Chan, Dustin Hoffman, Lucy Liu, Ian McShane, Angelina Jolie, Seth Rogen
DIRECTED BY: Mark Osborne, John Stevenson
THE SKINNY: Get ready for the Tie-in Parade! This self-explanatory animated comedy will have kiddies running the theater this weekend. Don't say I didn't warn you.
JUNE 13
The Incredible Hulk
(Universal)
STARRING: Edward Norton, Liv Tyler, Tim Roth
DIRECTED BY: Louis Leterrier
THE SKINNY: After 2003's outing, which epitomized the term "brilliant failure," a sequel didn't look possible, but a reboot always seems to be. Anyways, Norton is arguably the best actor of his generation and it'll be interesting to see what he brings to the role, along with Tim Roth as the Abomination. But it's best to be cautious: the Hulk still looks goofy rendered in CGI and rumors of on- and off-set difficulties between Leterrier (
The Transporter
) and Norton are near-legendary at this point.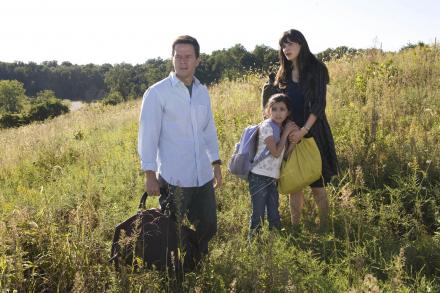 The Happening
(20th Century Fox)
STARRING: Mark Wahlberg, Zooey Deschanel, John Leguizamo
DIRECTED BY: M. Night Shyamalan
THE SKINNY: After the highly polarizing
Village
and
Lady in the Wate
r, will audiences want another "gotcha" thriller from Shyamalan? It might do well on its own, but the Friday the 13th opening certainly helps. (photo courtesy:
/Film
)
JUNE 20
Get Smart
(Warner Bros.)
STARRING: Steve Carell, Anne Hathaway, the Rock, Alan Arkin
DIRECTED BY: Peter Segal
THE SKINNY: A very loose adaptation of the genius '60s series, Maxwell Smart (Carell) is recruited into the super-secret agency CONTROL to battle KAOS, led by Terence Stamp (which reminds me, rent
The Limey
if you get a chance). While the writing and directorial credentials aren't there, the cast is uniformly great. Hopefully there are more laughs then just what we get in the trailer.
The Love Guru
(Paramount)
STARRING: Mike Myers, Jessica Alba, Justin Timberlake
DIRECTED BY: Marco Schnabel
THE SKINNY: Myers is back to his make-up laden schtick as the titular guru. Heaven help us.
JUNE 27
Wall-E
(Disney/Pixar)
DIRECTED BY: Andrew Stanton
THE SKINNY: The cutest little robot ever is left on Earth even after everyone has gone. Adventures ensue. Basically, at this point, I wonder if Pixar could do anything poorly. Ever. Don't look for this to start the trend.
Wanted
(Universal)
STARRING: James McAvoy, Angelina Jolie, Morgan Freeman
DIRECTED BY: Timur Bekmambetov
THE SKINNY: Russian native Bekmambetov brings his wild sci-fi style (
Night Watch
series) to the States in this adaptation of the graphic novels about rogue assassins. If it's rated R, expect some gruesome and awesome action scenes. If not, feel free to yawn.
JULY 4
Hancock
(Sony)
STARRING: Will Smith, Jason Bateman, Charlize Theron
DIRECTED BY: Peter Berg
THE SKINNY: A boozy, reluctant superhero (Smith) hires a PR consultant (Bateman) to readjust his shaky public status. Berg (
Friday Night Lights, The Kingdom
) is on a roll here. This could be the biggest live-action non-sequel of the summer (and I don't mean that as faint praise).
JULY 11
Hellboy II: The Golden Army
(Universal)
STARRING: Ron Perlman, Doug Jones, Selma Blair
DIRECTED BY: Guillermo del Toro
THE SKINNY: What do you do after you make your masterpiece? Why cash in of course! Luckily, del Toro is no hack and everyone's back for this outing, which is a good sign. Basically, the literal hell-raiser is back to fend off against the titular batch of warriors.
Meet Dave
(20th Century Fox)
STARRING: Eddie Murphy, Eddie Murphy, Eddie Murphy, Eddie Murphy, Eddie Murphy, etc.
DIRECTED BY: Brian Robbins
THE SKINNY: Just when you think Murphy's hit the bottom of the barrel, he finds a way to sink lower. This time he plays 10(!) workers aboard a spaceship shaped like, you guessed it, Eddie Murphy. Ugh.
JULY 18
The Dark Knight
(Warner Bros.)
STARRING: Christian Bale, Heath Ledger, Michael Caine, Maggie Gyllenhaal, Gary Oldman, Morgan Freeman, Aaron Eckhart
DIRECTED BY: Christopher Nolan
THE SKINNY: An incredibly tough call. Will Ledger's death cast a shadow over the production, keeping viewers away, or will they pay tribute with their wallets, catching his last complete performance? Either way, this will definitely be the darkest Batman chapter yet (one scene involves the Joker hiding in a bodybag), and as long as Nolan keeps the camp away (which was the problem with the darker
Batman Returns
), this will be the best too. And mark my words, Ledger WILL be nominated for Best Supporting Actor.
JULY 25
Step Brothers
(Columbia)
STARRING: Will Ferrell, John C. Reilly
DIRECTED BY: Adam McKay
THE SKINNY: Archenemies Ferrell and Reilly discover they're now siblings after their parents (Mary Steenburgen and Richard Jenkins, respectively) get hitched. Will the dynamic duo pull it off again, or are audiences sick of their antics?
The X-Files: I Want to Believe
(20th Century Fox)
STARRING: Gillian Anderson, David Duchovny
DIRECTED BY: Chris Carter
THE SKINNY: No one knows the plot for sure, but this is more of another tale than a direct sequel. But what's up with that title? Please don't tell me there's a former American Idol singing the ballad over the end credits. The bigger question: Will fans still be interested in Mulder and Scully six years after the series finale and ten years after the first movie?
AUG 1
The Mummy: Tomb of the Dragon Emperor
(Universal)
STARRING: Brendan Fraser, Maria Bello, Jet Li
DIRECTED BY: Rob Cohen
THE SKINNY: Few steps down are bigger than going from the fun-loving Stephen Sommers to maestro of crap Rob Cohen (
The Fast and the Furious, Stealth
). But with most of the cast still intact, this outing might be an entertaining diversion.
AUG 8
Pineapple Express
(Columbia)
STARRING: Seth Rogen, James Franco, Rosie Perez, Gary Cole
DIRECTED BY: David Gordon Green
THE SKINNY: If the stoners can find their way to the multiplex, this will likely be one of the summer's biggest comedy hits. Even non-users are sure to laugh at this action comedy, which looks like
48 Hrs.
with pot. And judging by the trailer, this is Franco's best performance. Ever.
Sisterhood of the Traveling Pants 2
(Warner Bros.)
STARRING: America Ferrera, Amber Tamblyn, Alexis Bledel, Blake Lively
DIRECTED BY: Sanaa Hamri
THE SKINNY: This is probably the last outing for the foursome. They've all got bigger fish to fry, but for now look for a surprisingly well-made chick flick.
AUG 15
Tropic Thunder
(DreamWorks)
STARRING: Ben Stiller, Jack Black, Robert Downey Jr, Steve Coogan
DIRECTED BY: Stiller
THE SKINNY: The self-obsessed cast of a Vietnam drama find themselves involved in real-life gunplay. There are supposed to be a handful of fake trailers interspersed. So THEY'RE the ones who actually went and saw
Grindhouse.
The International
(Columbia)
STARRING: Clive Owen, Naomi Watts
DIRECTED BY: Tom Tykwer
THE SKINNY: Owen plays an Interpol agent bent on taking down a big-time arms ring. Owen with firepower? I'm there.
AUG 22
Bangkok Dangerous
(Lionsgate)
STARRING: Nicolas Cage
DIRECTED BY: The Pang Brothers
THE SKINNY: Remaking their own 1999 Hong Kong thriller, hitman Cage (continuing his parade of bad hair choices) does some killin' and some lovin' in Thailand. Why you'd pick Cage to be your new leading man is beyond me.
Hamlet 2
STARRING: Steve Coogan, Catherine Keener, Elisabeth Shue
DIRECTED BY: Andrew Fleming
THE SKINNY: This year's toast of Sundance revolves around a failed actor and theatre teacher who writes a sequel to Shakespeare's best play (complete with time machines, musical numbers, and cameos by Satan) to save the school's drama department.