This summer was pretty mixed. But things will hopefully change this fall (at the moviehouse and the White House) with loads of Oscar contenders and smart entertainment. Here are the 30 movies to get excited about. All release dates subject to change. Photos courtesy
Rotten Tomatoes
and the respective studios, except where noted. Any possible copyright infringement is strictly unintentional.
SEPT. 12
Burn After Reading
(Focus)
STARRING: George Clooney, Frances McDormand, John Malkovich, Tilda Swinton, Brad Pitt, Richard Jenkins
DIRECTED BY: Joel & Ethan Coen
THE SKINNY: Hot off their Oscar win for No Country for Old Men, the Brothers return to quirky comedy with this farce about two idiotic gym employees who try to blackmail an ex-CIA analyst.
SEPT. 17
Appaloosa
(Warner Bros.)
STARRING: Ed Harris, Viggo Mortensen, Renée Zellweger, Jeremy Irons
DIRECTED BY: Harris
THE SKINNY: After last year's bleak Western
3:10 to Yuma
, this looks like another successful addition to the canon, but I don't think anyone will call it "crowd-pleasing."
SEPT. 26
Miracle at St. Anna
(Touchstone)
STARRING: Derek Luke, Michael Ealy, Joseph Gordon-Levitt, John Turturro
DIRECTED BY: Spike Lee
THE SKINNY: A Spike Lee Joint is always worth seeing, but his filmography can be divided into two subgenres: deep insights on racism in America and straight-up, dern-good entertaining flicks. This looks to be a good mix of the two.
Eagle Eye
(DreamWorks)
STARRING: Shia LaBeouf, Michelle Monahan, Rosario Dawson, Billy Bob Thornton
DIRECTED BY: DJ Caruso
THE SKINNY: Caruso and LaBeouf seem to be on a roll here, with
Disturbia
(lawsuit notwithstanding) and the upcoming
Y: The Last Man
. This high-tech thriller looks like a great throwback to '70s paranoia films. Check out this creepy but effective
viral site
.
OCT. 3
Nick and Norah's Infinite Playlist
(Sony)
STARRING: Michael Cera, Kat Dennings
DIRECTED BY: Peter Sollett
THE SKINNY: Based on the funny and heartfelt novel, this hipster-friendly tale of a night of passion between two music lovers and their crazy night in New York.
How to Lose Friends and Alienate People
(MGM)
STARRING: Simon Pegg, Kirsten Dunst, Danny Huston, Jeff Bridges
DIRECTED BY: Robert B. Weide
THE SKINNY: Another transfer of novel-to-screen, this black comedy features Simon Pegg (who proved
earlier this year
that he can hold his own without Nick Frost) as a journalist who constantly puts his foot in his mouth. (Photo courtesy
Collider.com
)
An American Carol
(Vivendi)
STARRING: Kevin P. Farley, Kelsey Grammer, Leslie Nielsen
DIRECTED BY: David Zucker
THE SKINNY: It might be a mess, but for now this looks like a swift upper-cut to the far left. Farley (yes, Chris Farley's brother) plays a documentary filmmaker who learns the true meaning of the Fourth of July. (Photo courtesy Vivendi Entertainment)
OCT. 10
Body of Lies
(Warner Bros.)
STARRING: Russell Crowe, Leonardo DiCaprio
DIRECTED BY: Ridley Scott
THE SKINNY: Based on the novel from Washington Post writer David Ignatius, this timely action pic features two of the hardest working actors in the biz as spies, one of which (DiCaprio) goes rogue.
RocknRolla
(Warner Bros.)
STARRING: Gerard Butler, Idris Elba, Tom Wilkinson, Thandie Newton
DIRECTED BY: Guy Ritchie
THE SKINNY: With this return to form (we're talking quickly-edited, foul-mouthed British gangster movies here), Ritchie can almost (almost) be forgiven for
Swept Away
.
City of Ember
(Fox/Walden)
STARRING: Saoirse Ronan, Bill Murray, Tim Robbins, Toby Jones
DIRECTED BY: Gil Kenan
THE SKINNY: After creating the phenomenal
Monster House
, Gil Kenan's first foray into live action looks like (finally) an adaptation of a kids novel that will appeal to both kids and adults, and features a timely plot point about the energy crisis.
OCT. 17
W.
(Lionsgate)
STARRING: Josh Brolin, Elizabeth Banks, Richard Dreyfuss, Thandie Newton, Jeffrey Wright, Ioan Gruffudd, Scott Glenn, James Cromwell, Ellen Burstyn
DIRECTED BY: Oliver Stone
THE SKINNY: It's sure to be unbiased (not), but at least someone is taking a shot at making a movie about one of the most controversial presidents ever. And just look at that cast...
Max Payne
(Fox)
STARRING: Mark Wahlberg, Mila Kunis, Ludacris, Beau Bridges
DIRECTED BY: John Moore
THE SKINNY: There has never been a good live-action video game adaptation. Ever. But this could be a start. We'll just have to wait and see...
What Just Happened?
(Magnolia)
STARRING: Robert de Niro, Sean Penn, Bruce Willis, Robin Wright Penn, John Turturro, Stanley Tucci
DIRECTED BY: Barry Levinson
THE SKINNY: Levinson is in dire need of a hit to patch up his recent record of shoddy work. It looks hilarious, but this movie (about a producer's trying time in Hollywood) may be to inside for the average moviegoer. (Photo courtesy
Collider.com
)
OCT. 24
Changeling
(Universal)
STARRING: Angelina Jolie, Amy Ryan, Andrew Donovan
DIRECTED BY: Clint Eastwood
THE SKINNY: Probably the hardest working director in Hollywood, Eastwood continues to make thought-provoking movies, this one looks to be no exception: Jolie (finally in a meaty role) plays a mother who's son is kidnapped. But she doesn't believe the police when they return her boy.
Synecdoche, New York
(Sony Pictures Classics)
STARRING: Philip Seymour Hoffman, Catherine Keener, Michelle Williams, Samantha Morton
DIRECTED BY: Charlie Kaufman
THE SKINNY: The Oscar-winning screenwriter of
Eternal Sunshine of the Spotless Mind
makes his directorial debut with this tale of an obsessive playwright who builds an almost full-scale replica of New York in an abandoned factory.
OCT. 31
Zack and Miri Make a Porno
(The Weinstein Co.)
STARRING: Seth Rogen, Elizabeth Banks, Craig Robinson
DIRECTED BY: Kevin Smith
THE SKINNY: Back to show everyone how to balance extreme raunch with sweet message, Kevin Smith finally releases his much contested comedy. And, c'mon, this movie needs no explanation. Just read the title.
NOV. 7
Role Models
(Universal)
STARRING: Paul Rudd, Seann William Scott, Elizabeth Banks, Christopher Mintz-Plasse
DIRECTED BY: David Wain
THE SKINNY: In his first full-on feature since 2001's cult classic
Wet Hot American Summer
, the
Wainy Days
and
Stella
co-creator lets Rudd and Scott run free as two buddies forced to spend time doing community service in a Big Brothers, Big Sisters-type program. (Photo courtesy
Empire Movies
)
NOV. 14
Quantum of Solace
(Columbia)
STARRING: Daniel Craig, Olga Kurylenko, Judi Dench, Jeffrey Wright, Mathieu Amalric
DIRECTED BY: Marc Forster
THE SKINNY: Probably my most anticipated movie this fall is this direct sequel (a first) to
Casino Royale
, the highly successful (critically and financially) James Bond reboot.
Assassination of a High School President
(Yari Film Group)
STARRING: Reece Thompson, Mischa Barton, Bruce Willis
DIRECTED BY: Brett Simon
THE SKINNY: Saw this at SXSW, and I've got to say this humorous noir set in a Jesuit high school is still one of the funniest movies of the year. Seek it out.
NOV. 21
The Soloist
(DreamWorks)
STARRING: Jamie Foxx, Robert Downey Jr, Catherine Keener
DIRECTED BY: Joe Wright
THE SKINNY: You'd think Downey would take a break, but it looks like he's going for a hat trick of greatness this year (after I
ron Man
and
Tropic Thunder
), playing a journalist who discovers a homeless, schizophrenic cello prodigy (Foxx). Based on a true story. Bring some hankies and your Academy nomination form. (Photo courtesy
pop critics
)
NOV. 26
The Road
(Dimension)
STARRING: Viggo Mortensen, Charlize Theron
DIRECTED BY: John Hillcoat
THE SKINNY: The novel by Cormac McCarthy won a Pulitzer, but I think it's pretty overrated. That being said, this adaptation looks like it will have much more of a plot, and therefore more compelling.
Australia
(Fox)
STARRING: Hugh Jackman, Nicole Kidman
DIRECTED BY: Baz Luhrmann
THE SKINNY: Possibly the most wonderfully over-indulgent director in history, Luhrmann returns to the big screen with this labor of love, a romance set against the backdrop of Australia during WWII.
Milk
(Focus)
STARRING: Sean Penn, James Franco, Emile Hirsch, Josh Brolin, Diego Luna
DIRECTED BY: Gus van Sant
THE SKINNY: Here's a biopic that looks worth investigating: Penn plays Harvey Milk, the first openly gay elected official in U.S. history, who had a controversial run as San Francisco's city supervisor that ended with his assassination.
Slumdog Millionaire
(Fox Searchlight)
STARRING: Dev Patel, Freida Pinto
DIRECTED BY: Danny Boyle
THE SKINNY: One of the most interesting filmmakers working today, Danny Boyle moves his cameras away from the UK (and well, outer space) to India, where a kid trying to escape the horrendous gang violence of his neighborhood competes on
Who Wants to Be a Millionaire?
DEC. 5
Frost/Nixon
(Universal)
STARRING: Frank Langella, Martin Sheen, Kevin Bacon
DIRECTED BY: Ron Howard
THE SKINNY: Keeping the original cast intact from the stage play, Ron Howard directs the duo (disgraced President Richard Nixon and British journalist David Frost) in this film adaptation.
DEC. 12
Doubt
(Miramax)
STARRING: Philip Seymour Hoffman, Meryl Streep, Amy Adams
DIRECTED BY: John Patrick Shanley
THE SKINNY: Another play adaptation, this one without its original cast (but keeping its original writer/director) about allegations of abuse in the Catholic church. But what a cast... (Photo courtesy
WorstPreviews
)
DEC. 19
The Brothers Bloom
(Summit)
STARRING: Adrien Brody, Mark Ruffalo, Rachel Weisz, Rinko Kikuchi, Robbie Coltrane
DIRECTED BY: Rian Johnson
THE SKINNY: If there's ever a project I had more desire to see (without knowing what it would be) than Rian Johnson's follow-up to
Brick
, I couldn't tell you what it was. This twisty, hilarious tale of two con artist brothers going for one last job could just be the greatest thing since, well,
Brick
.
The Curious Case of Benjamin Button
(Paramount)
STARRING: Brad Pitt, Cate Blanchett, Tilda Swinton
DIRECTED BY: David Fincher
THE SKINNY: After directing last year's best movie
Zodiac
, I have full faith in Fincher in making the unfilmable material something worth watching. Now if only he could get over his spats with the studio. (Photo courtesy
Collider.com
)
The Wrestler
(Fox Searchlight)
STARRING: Mickey Rourke, Marisa Tomei, Evan Rachel Wood
DIRECTED BY: Darren Aronofsky
THE SKINNY: A Mickey Rourke wrestling movie? What is this? The '80s? Why on earth would I want to see that? But buzz out of Toronto is strong.
/Film
even says "I haven't read a review yet that didn't mention Mickey Rourke and Academy Award nomination in the same sentence."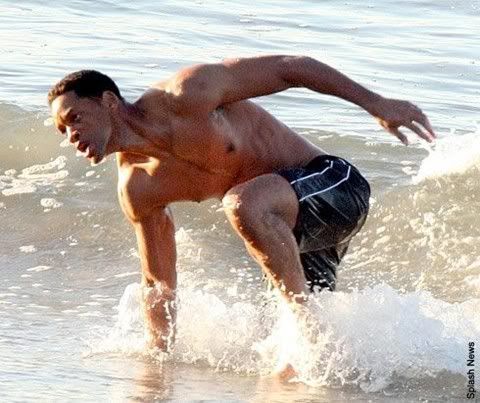 Seven Pounds
(Columbia)
STARRING: Will Smith, Rosario Dawson, Michael Ealy, Woody Harrelson
DIRECTED BY: Gabriel Muccino
THE SKINNY: Two years ago (almost to the day) Smith and Muccino teamed up to make
The Pursuit of Happyness
, which went on to make over $100 million domestically and made us all want to slit our wrists until the final 20 minutes. This looks to repeat that formula. But if there's anyone who can pull off anything, it's the world's biggest movie star.