Revisions in
bold
.
Bea Arthur –

The Comedy Central Roast of Pamela Anderson
Adding a touch of class to the sketchy proceedings, the Golden Girl does a deadpan reading from Pam's novel
Star
and more viciously jabs at the center of attention than any other roaster.
Wayne Brady –

Chappelle's Show
No, I'm not done talking about this episode yet. Brady, who had a reputation of being white people's favorite black man because he was so inoffensive, had lots of fun sending up his squeaky-clean image by (simulating) running a prostitution ring, forcing his friend to smoke PCP and killing a police officer. His performance remains legendary no matter how many times you re-watch it.
Tina Fey –

Saturday Night Live
Passing beyond the realm of good imitation, Fey was spot-on in her performance as Alaska Gov. Sarah Palin. It transcends sketch comedy. Fey is honestly as brilliant as Helen Mirren in
The Queen
or Jamie Foxx in
Ray
.
Michael J. Fox –

Rescue Me
After years out of the spotlight, Fox returned with a dark (and darkly funny) performance as Dwight, the parapalaegic nemesis of Denis Leary's disgruntled New York fireman. Tough stuff, but by playing against type, Fox reminded us how much we had missed him.
Brendan Fraser –

Scrubs
Yes, the goofy star of such '90s shenanigans as
George of the Jungle
and
Blast from the Past
, brought just the right touch of poignancy and lightheartedness to the goofy but heartfelt show as Dr. Cox's brother-in-law.
Ricky Gervais –

The Simpsons
So one episode can't prove that he's in contention for the funniest guy alive title but the creator of
The Office
certainly gave it some effort. As the reality TV star who desperately wants some wifely attention, he adds a tinge of loneliness to his hilarious performance. And, boy can sing, too.
Cloris Leachman –

Malcolm in the Middle
As Lois' overbearing, racist, but relentlessly funny mother, Leachman was nominated every year (six seasons) she guest starred on the Fox show. But it's because she still manages to be endearing despite her shortcomings. Kind of like real family.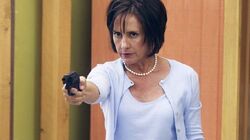 Laurie Metcalf –

Desperate Housewives
For the few minutes she was on this otherwise terrible show, audiences were actually captivated and didn't have to focus on the acting that mostly consists of gasps at "shocking behavior." They were all glued to their sets as the crazy neighbor and Sunday School teacher held townspeople hostage.
Richard Simmons -

Whose Line is it Anyway?

So maybe it's not as groundbreaking or important as other performances, but the fitness guru is responsible for about 10 of the funniest minutes on television, period.
Henry Winkler –

Arrested Development
The Bluth family lawyer is more than just a terrible attorney, he's a terrible human being. He runs from courtrooms with dutiful judges and street corners with female prostitutes, but he's just another hilarious layer in one of the funniest shows of all time. And the cherry on top? He's replaced by Bob Loblaw (Scott Baio).