Unfortunately, many of the great shows of the decade featured tremendous ensemble casts, which would have made singling out a single character impossible. So, ignoring that wonderful plethora of performances, here are the stand-out showings of the decade.
Stephen Colbert –

The Colbert Report
The only similarities Colbert the character shares with Colbert the man are humor and name. Colbert the character is a self-centered imbecile hell-bent on never changing his mind. He's right because he's the loudest person in the room. Sound familiar? That's because while
The Daily Show
is modeled upon straightforward newscasts,
The Colbert Report
mocks pundits who value winning an argument over the audience understanding what it all means. Yet he remains so gosh dern likable (this is where
the real Colbert
shines through) and he transcended television, making headlines for hosting the White House Press Correspondents' Dinner and making enemies, coining a new word (
"truthiness"
) and running his own political campaign (which quickly got torpedoed by politicians who would have been given a run for their money).
Mariska Hargitay –

Law & Order: Special Victims Unit
As one of the most complex and bravest women on television, Hargitay took
SVU
from just another spin-off to what was perhaps the superior to the original. That sort of thing doesn't happen that often (critics have also argued the same about
Frasier
and
Pinky and the Brain
). Here was an intelligent, dedicated woman who still managed to care about the real people she encountered on the job. She's part of the cream of the crop of female actors on TV, not just now but at any time.
Jane Kaczmarek –

Malcolm in the Middle
Longsuffering mothers and wives are nothing new to television, and at one time,
Malcolm in the Middle
was at the forefront of shows with do-nothing dads, but Kaczmarek's performance was nothing to scoff at. Like Roseanne before her, she brought a dose of realism to her bit. Working a minimum-wage job to help support her family, she loved her boys, even when they were profoundly disrespectful. She was nominated for an Emmy every year, but lost to such safe bets as Jennifer Aniston and Debra Messing. She should grab voters by the ear and give them a piece of her mind.
John C. McGinley –

Scrubs
The script called for a "John C. McGinley-type" for the role of the isolated Dr. Cox, and even though he had to audition for the role, it's no surprise he got it. But this is no mere typecasting. Before then, McGinley played either nitwits or jerks. Here, he revealed a character filled with pain. And despite his difficulty opening up, Coxxy ("OK, maybe Coxxy was going a bit too far.") always wanted his trainees to learn something. We all did.
Tammy Lynn Michaels –

Popular
Keeping in line with the theme of this list, Michaels played a character that could have been one-note, but ended up striking the right chord. As school bully Nicole Julian, the ultra-wealthy witch tormented the popular and unpopular alike in her quest for acceptance. As the season progressed, we learned more about the reasons behind her reprehensible behavior. It was never justified, but her performance caused viewers to constantly re-evaluate their opinion about her.
Sarah Paulson –

Studio 60 on the Sunset Strip
Finally, a Christian character on television who wasn't a fanatic or a moron. Her portrayal of Harriet Hayes was of a woman who was flawed, but still stood her ground when the situation called for it. The other details about the character feels genuine, even though Paulson is her polar opposite.
Tony Shalhoub –

Monk
In the shows eight seasons, Shalhoub won approximately 72 Emmys for his performance as the obsessive-compulsive detective and it's not hard to see why. Far more than facial tics and an affinity for hand wipes, this is one of those "lived-in" performances, where such time and care went into the craft, everything goes off without a hitch. Every case he works on is not just part of his job, but part of his personal journey that this case might be the one that helps him solve what's haunted him for so long: the murder of his wife. Though we only occasionally see Trudy in flashbacks, we feel Monk's love for her in every frame.
Amber Tamblyn –

Joan of Arcadia
Many characters on the show were skeptical that Joan could actually see and hear God talking to her, and if Tamblyn wasn't giving it her all, audiences wouldn't have bought it either. Instead, the young actress was convincing despite her character's own doubts. Her performance was many of the moving aspects of the show that was canceled way before its time.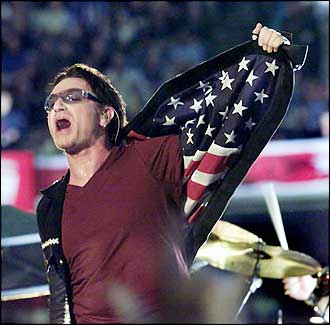 U2 –

Super Bowl XXXVI
Everything about this Super Bowl felt different, especially less than five months after 9/11. But the band's halftime performance brought out an emotional response out of all of us. "Where the Streets Have No Name" never felt as resonant as that banner of victims' names ran up the stage. Hard not to tear up, but it's not manipulative, only powerful.
Kristen Wiig –

Saturday Night Live
Man, there were some lean years this decade on
SNL
. It was like searching for the occasional light on a dark road. Between legendarily awful guest hosts (January Jones) and musical performances (Ashlee Simpson), the sketch series was usually not a laughing matter. But starting in 2005, something changed. Wiig was part of a new breed of fearless, funny (and frankly sexy) comediennes trained at the 30 Rockefeller set (see also: Tina Fey, Amy Poehler).