30 Days
(2005-2008, FX) /
American High
(2000, Fox/PBS)
In a decade when reality TV overtook networks like a vicious plague, destroying originality, here were two shows about real life that deserved to be followed. FX's series took bold filmmaker Morgan Spurlock (hot off the success of
Super Size Me
) and thrust him and other subjects into unknown worlds for a month, and audiences saw the struggle of Americans just like us. The latter series was just as compelling, even though no one saw it. A cross-section of high school students from the Chicago suburbs collided over the course of their senior year. It was raw and believable. If only producers had taken note of these shows.
American Idol
(2002-present, Fox)
Every once in a while, a show comes along that taps into something inside a large swath of Americans. It transforms from a weekly program to a culture in and of itself. Fox's version of the UK series
Pop Ido
l is just that sort of show. It's one of three shows to ever remain No. 1 for five years. It was at the forefront of just about every technological revolution of the decade (text messaging as a vehicle for voting, the Internet as a tool to build up and dismantle the show, DVR-ing past the boring moments) and it encourages viewers to participate—through voting, donations to charities (it raised several million dollars in one special) and braving summer heat to audition in the hopes that they might become the next American Idol.
Arrested Development
(2003-2006, Fox)
Mitchell Hurwitz's family comedy isn't just a funny show. It's a surefire contender for the funniest sitcom of all time. Filled to the brim with jokes upon jokes (and jokes-within-jokes), there's something new to catch every time. The cast is absolutely perfect, making it impossible to single out the funniest character. A show this good shouldn't have made it to three seasons, but it deserved even more. Now all we can do is hope for the movie.
Best Week Ever
(2004-2009, VH1) /
The Soup
(2004-present, E!)
Both shows took the easiest of all concepts—making fun of celebrities—and turned it into something brilliant. The cast of regulars each brought something different to each week of famous people doing stupid things on VH1's show. Alas, they decided to change to a single-host format in 2008, and essentially removed all the humor. On the flip side, the one-man show approach worked for E!'s variation on its own
Talk Soup
. Joel McHale's contrasting frenetic energy and dark humor carried the cheaply produced show for five years.
Boomtown
(2002-2003, NBC) /
Line of Fire
(2003-2004, ABC)
So why should two cop shows no one saw be on this list? Because they did it better than anyone had in a long time. I was personally never a fan of
The Shield
or
NYPD Blue
, but these two series brought the right amount of darkness to the tired format. NBC series took a page from Kurosawa and gave its L.A.-based series a
Rashomon
set-up, as viewers saw the crime from the point of view of cops, attorneys, victims and suspects. ABC's show was even darker, as we got a look into organized crime outside Washington, D.C. and the cops and FBI agents looking to take it down. Violent but gripping, both shows were part of the last wave of edgy programming before it left for the safe haven of cable. Broadcast stations removed the word "risky" from their vocabulary after Janet Jackson's Super Bowl debacle.
Chappelle's Show
(2003-2006, Comedy Central)
For two short seasons (and some scraps called "The Lost Episodes"), Dave Chappelle brought a daring, hilarious voice to not just sketch comedy, but television in general. When he wasn't making some thought-provoking points about race, he still managed to make equally funny sketches about THC-free weed, a financial firm run by Wu-Tang Clan, Rick James and Prince's behind-the-scenes antics, and of course, "When Keeping it Real Goes Wrong."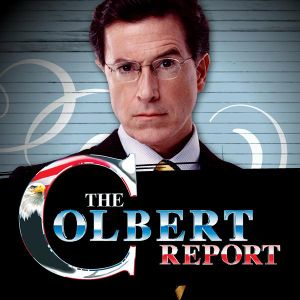 The Colbert Report
(2005-present, Comedy Central)
A mercilessly funny send-up of loud, angry pundits (Bill O'Reilly, Sean Hannity), this is one of those shows that continues to get better as it ages. Stephen Colbert the character has an ego that rivals anyone on Fox News, and he keeps the spotlight on him at all times. It could easily get stale if he didn't always have his sights on the never-ending stupidity of politicians. As the decade wore on, it proved it was superior to
The Daily Show
, because it was never certain which party Colbert hated more.
Dinner for Five
(2001-2008, IFC)
It's probably too insider for most viewers, but Jon Favreau's entertaining unscripted series always works. Taking a simple set-up: Favreau and four Hollywood friends sit around the table and talk about their experiences, the show never grows stale and you feel a part of the club, even if you're in your living room.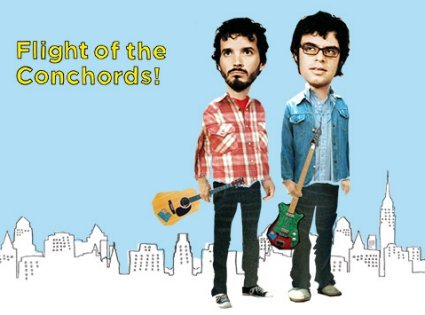 Flight of the Conchords
(2007-2009, HBO)
Perhaps the closest thing we'll get to a Christopher Guest-directed TV series, the New Zealand folk-comedy duo hits close to home for musicians trying to make it. Jemaine and Bret, with the help/detriment of their manager (the pent-up Rhys Darby), their band makes records, concert appearances and plenty of mistakes. But the music is the glue that holds the show together, with titles like "Hiphopopotamus vs. Rhymenoceros" and "Bowies in Space."
Freaks and Geeks
(1999-2000, NBC) /
Undeclared
(2001-2002, Fox)
Before he became "the smartest guy in Hollywood" (at least according to Entertainment Weekly), Judd Apatow was just another TV writer/producer who never had a show last a complete season. But both of these shows (the first a wistful take on the trials and tribulations of high school, the second a sunnier version of the trials and tribulations of college) were among the funniest and sharpest of the decade.
Friday Night Lights
(2006-present, NBC)
The show based on the movie based on the book is the best version of the Permian football team. There's no reason a show about football should be this good, but the top-notch writing and subtle acting of the entire cast (particularly Kyle Chandler) give it an added realism that hits home for just about anyone who's ever lived in a place where football is the local god.
Gideon's Crossing
(2000-2001, ABC)
ER
? What's
ER
? ABC's short-lived medical drama was far more compelling, thanks to a consistent roster of great actors (and a terrific story arc with the one and only Billy Dee Williams) and interesting storylines. Every character mattered here, and it got its wings clipped just as it was starting to fly.
It's Always Sunny in Philadelphia
(2005-present, FX)
In 1996,
Seinfeld
aired one of its best episodes, "The Bizarro Jerry." Nine years later, one could argue the opposites of Jerry and co. got their own show. Actually, it takes the same set-up (three guys, one girl) and moves in an even darker direction. The series finale of
Seinfeld
reminded us that even though we loved watching these characters for years, they were actually terrible people. Sunny reminds us of this every episode. There are no redeeming qualities to Charlie, Dee, Mac or Dennis, and especially not Danny DeVito's Frank, who joined the cast in 2006. It's just one hilariously dark misadventure after another, yet it still remains fresh and appalling each week.