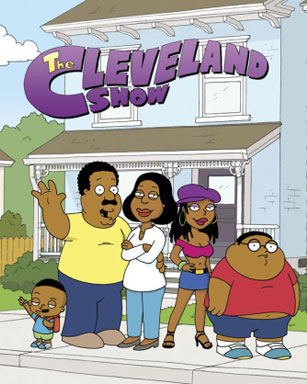 American Dad!
(2005-present, Fox) /
The Cleveland Show
(2009-present, Fox)
When
Family Guy
re-premiered in 2005, many folks (including me) were excited for the return of the hilarious show, even if it paled to most other adult-oriented animated fare on TV. But the success must have gone to McFarlane's head who used his newfound ratings success not to prove why the show deserved to be brought back, but decided to replace anything resembling a plot with gross-out gags and countless pop-culture references.
American Dad!
and
The Cleveland Show
are pale imitations of this already tired set-up.
Baby Bob
(2002-2003, CBS) /
Cavemen
(2007, ABC)
Both shows are based on commercials that weren't even funny in 30 seconds, so who thought they'd be funny in 30 minutes? CBS at least aired their travesty (about a talking baby—how original!) during the lean summer months, but ABC executives should be ashamed of themselves. George Lopez had every right to be pissed, being replaced by GEICO spokesmen. That'd almost like pulling
The Cosby Show
for a show starring Joe Isuzu.
Cracking Up
(2004, Fox)
Watching this show for the first time, I was crestfallen. My disappointment would only be outdone by seeing Bob Dylan live in concert. Come on, how could a show starring Jason Schwartzman and Zooey Deschanel (about a dysfunctional family) be anything less than a brilliant comedy sent from hipster heaven? This is how. Sitting through all 22 minutes was hell. The title must have been referring to the audience.
The Girls Next Door
(2005-present, E!)
For five seasons, viewers hung on the every whim of Hugh Hefner's three girlfriends (who were actually narrowed down from a field of seven), all of them 60 years his junior. Apparently no one batted an eye to this arrangement, glued to the set to follow the banal trials and tribulations of being among the most pampered people in the world. On season six, Hef traded up for three younger models. It remains to be seen if ratings will be affected, or if viewers think this set-up is kosher and not the least bit degrading to women.
I Love Money
(2008-2009, VH1)
VH1 had plenty of contenders for this list, as it took sister network MTV's approach of replacing anything about music with unbearably stupid reality shows. But this represents the low point of not just reality programming, but pretty close to the low point of humanity as well. "All-stars" from previous quality endeavors like
Flavor of Love, Rock of Love
and
I Love New York
, degrade themselves even further for the satisfaction of their basest instincts: greed.
Laguna Beach: The Real Orange County
(2004-2006, MTV) /
The Hills
(2006-present, MTV) /
The City
(2008-present, MTV)
There's not a whole lot to say about the product-driven, self-obsessed reality series about selfish Californians. It spawned hundreds of spin-offs and unleashed Spencer and Heidi Montag on the world, the penalty of which should be death by hanging.
The Moment of Truth
(2008-2009, Fox) /
Temptation Island
(2001-2003, Fox)
Wait, are you telling me Fox revels in programming to the lowest common denominator? In typical Fox fashion, producers exploited contestants, putting them in situations they're bound to fail. The former hooked participants up to a lie detector, asking them wildly inappropriate questions about infidelity, among others. The latter flaunted cheating right in everyone's face, practically begging the island's visitors to break their vows. But the real losers were audiences, who granted each show multiple seasons.
My Big Fat Greek Life
(2003, CBS)
For this TV adaptation of the wildly popular romantic comedy (the highest grossing of all time), writers and producers took everything charming and funny about the first and promptly took it all out. Nia Vardalos never recovered, following this up with a mildly humorous
Some Like it Hot
remake (
Connie and Carla
) and two more romantic comedies (
My Life in Ruins
and
I Hate Valentine's Day
) that got absolutely thrashed by critics.
My Super Sweet 16
(2005-present, MTV)
When MTV began airing
Cribs
in 2000, it was realistic to see highly paid musicians, athletes and actors show off their pricey pads. But this showcase of spoiled brats pushed materialism to new heights and extended the me-first attitude of the '80s to a new generation of teen viewers.
That '80s Show
(2002, Fox) /
Joey
(2004-2006, NBC)
Two unfunny spin-offs from two truly funny shows. The first completely ignored that what made its predecessor so great was that its jokes about '70s were mere cherries on top of great writing and terrific chemistry among the cast, not the only source of humor.
Joey
on the other hand was a desperate effort by NBC to hold on to the success of their last mega-hit. Regardless, both cash-ins didn't pay off as viewers got wise and realized the magic was nowhere to be found in either show.